Temperance Tarot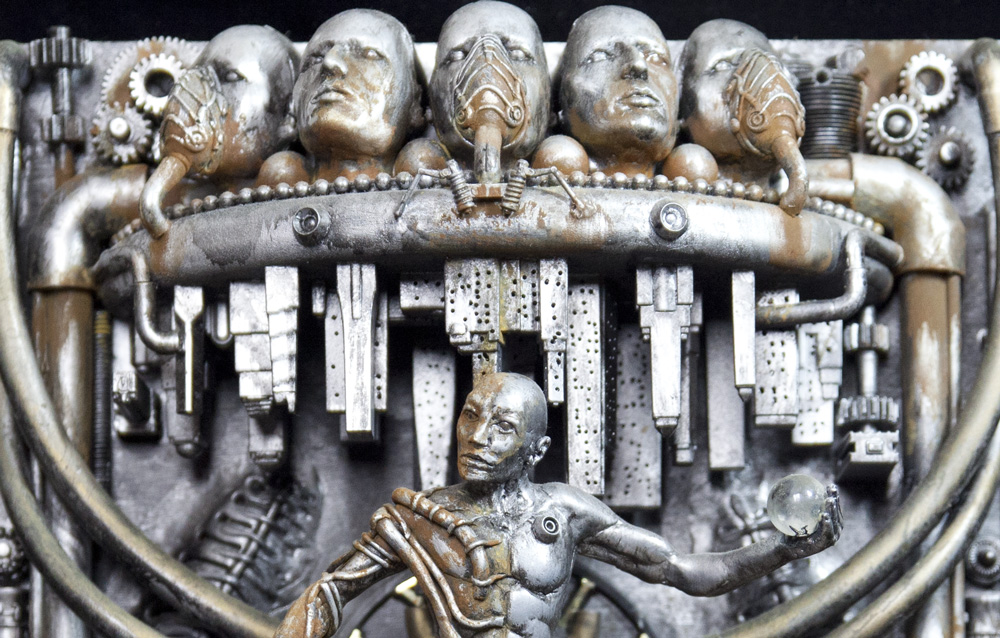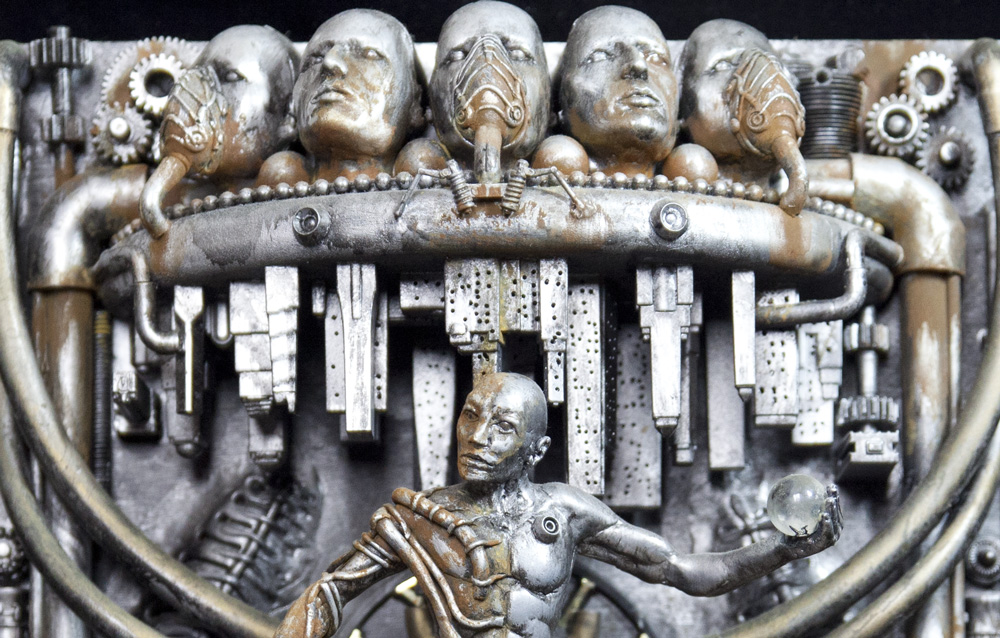 Temperance Tarot
Size 14" x 11" x 5"
This assemblage sculpture is part of my sculpted tarot series I did for the Hive Gallery in Los Angeles. For the show, all artists were given their cards (distributed at random) to create from the major arcana. The piece is a one-of-a-kind.
I was unfamiliar with the Temperance card when I was given the project. I love tarot cards and expected to get one I had heard of and at first was unhappy to make it. However, in hindsight, I am very glad I received it because of the relevance to my life. The temperance card deals with finding balance in life and dealing with problems calmy. Balancing the time I have with work and family and making big decisions are major for me.
At the top of my sculpted representation of the Temperance card are the heads of state in my mind, so to speak. All plugged into a metropolis or city, which is upside down, feeding off of each other. This represents ambition and a drive for things like career, money, and power.
At the center, the figure is me. Half of my body is covered in external wires and mechanical augmentations, representing the ego and the pursuit of power. The second half is naked and free of external baggage. My bottom toe is touching what represents the destruction and decay of that metropolis (which is represented in the rust color). That freedom means the loss of ambition but the gain of a more spiritual understanding of the world and myself. The figure balances two spheres representing the constant struggle between the two opposing forces.
Behind the figure is a clock with a fetal skull in the center of it. This represents the all-pervasive human constant of time. Life and inevitable death. This piece can also be hung upside down to represent the opposite of balance–-chaos.
I constantly struggle with these things in my life. When I look at the Temperance sculpture, I ask myself if my life is in balance with what is most important to me: my family and my artwork. Often, it is not. I am a sculptaholic and often push aside my family and even health to pursue the endless sculptures that roam around my mind, always fighting to escape through my fingertips. This Temperance sculpture helps remind me to keep a balance and never let one overtake the other.
For more information on the temperance tarot card in general and its meaning, click here.